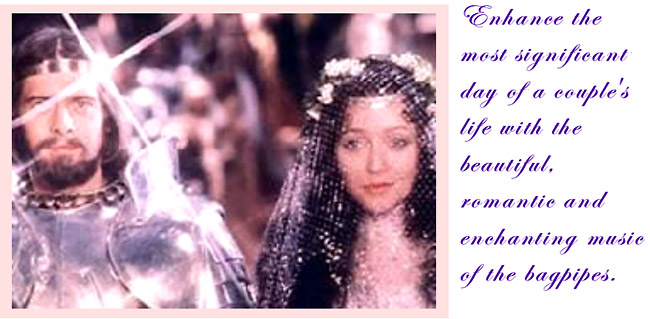 Ian will be happy to work closely with you in all of your personal musical requests customized to your unique vision and needs. Read some thoughts and experiences from a few of Ian's many happy clients below.

He has participated in hundreds of wedding ceremonies throughout the West Coast and gladly shares his experiences with his clientele helping them to achieve exactly what they want. Ian has worked extensively with wedding planners and coordinators thus making your arrangements flow smoothly. His location in the South Bay allows him to readily travel throughout Los Angeles, San Bernardino, and surrounding counties.

Ian will perform at your wedding wearing traditional formal, semi-formal or folk highland dress, whatever fits your wedding's special theme.

With 40 years experience Ian has compiled a vast repertoire of tunes including "The Wedding March," "Amazing Grace," and a host of traditional pieces to choose from. Ian has played for ceremonies on yachts, in churches, in the mountains, at the ocean, in airplanes and in castles and will happily perform wherever your wedding location might be.



"My wedding was something I planned in my thoughts since I was a little girl. It had to have the 'special' quality that would match my girlhood 'dream'. I wanted romance, excitement, fun and wonderment. Ian's music was perfect! It was everything I had hoped for. I will never forget that moment I stepped onto the aisle and the music began."
Erin (a bride)
"My wife and I got married with bagpipes and our daughter, Elaine wanted to follow our tradition. Ian was so good, his music was absolutely beautiful and it made us remember our ceremony - even after thirty nine years. We wish Ian had been around to play for ours!"
Frank (a father of the bride)
"We chose Ian to play at our wedding from the referral of an out of town friend. He was willing to travel up to Portland so our dreams could be fulfilled. He was such a pleasure to work with. So Professional!"
Tina and Brad
"I really appreciated the way Ian accommodated my daughter with her musical requests. There was so much to plan and he made it much easier. He even helped us with some good ideas for the wedding ceremony. And his music……it was incredible!!"
Helen (a mother of the bride)
"The bagpiper, Ian, had such presence. Our wedding was outdoors amongst flowers and trees. I felt like I was in a fairy tale when he appeared along the path and the music began."
Loreena and Michael (a bride and groom)
CONTACT INFORMATION:
Telephone: (310) 528-1514
e-mail address: ian@aceltictraveler.com
Ian's studio is located in Redondo Beach, California

[Home] [About Ian] [Ian and his Music] [Weddings] [Funerals] [Individual Instruction] [Pipe Band Consultation] [Ian's Piping School] [Calendar] [Bagpipe Store] [Music Downloads] [Testimonials]
Ian Whitelaw
Master Bagpiper for Weddings, Funerals, Performances, Teaching, Instruction, and all occasions.